LIGHT OF DAY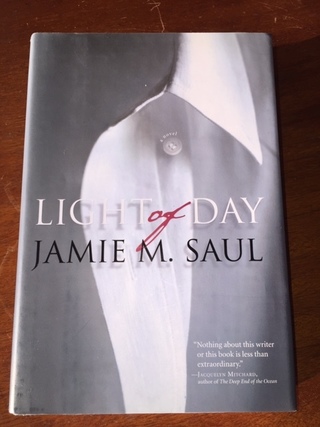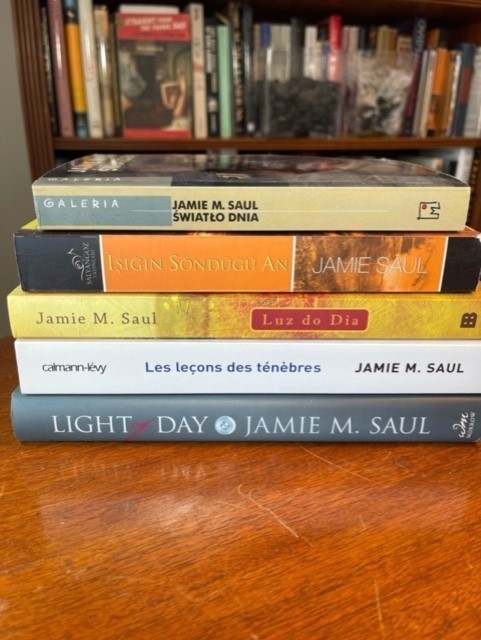 A Book Sense Notable Book for July 2005!
"Within only a few pages we find ourselves strapped in for an exhilarating emotional roller-coaster ride. There's some powerful writing at work here, the rare kind able to pull you smack dab into someone else's damaged psyche. Light of Day is one of those debut novels that delivers the goods with style and compassion."
— Washington Post

"A bold and impressive debut . . . In a gripping tour de force by a writer supremely confident of his vision, Saul leaves us stunned and breathless, waiting for the next chapter in what one hopes will be a long and illustrious career."
– Orlando Sentinel

"Like an arrow to the heart, Jamie Saul's page-turner novel sears through the psyche to hit bedrock."
– Sena Jeter Naslund, author of Ahab's Wife
"This first novel rivals Jacquelyn Mitchard's Deep End of the Ocean as a probing exploration into the psychology of grief . . . a gorgeous literary thriller of the highest caliber."
-Booklist (starred review)
"[H]eartbreakingly realistic and completely riveting. . . . Treating all of his characters with great respect, Saul's prose is both muscular and polished, and his sense of timing is impeccable. . . . Saul shows sensitivity and a rare understanding of the human psyche in his debut novel. . . . LIGHT OF DAY is a moving, elegant novel that lingers with the reader long after the last page is turned."
– BookReporter.com
"How does a novel become a work of classic literature? Recognition by critics and readers over time…and my bet is that this first novel by a new author will eventually be seen that way. Anyone who wants in on the ground floor of that decision should grab the book now."
—Lincoln Journal Star (Nebraska)
"Nothing about this writer or this book is less than extraordinary."
– Jacquelyn Mitchard, author of The Deep End of the Ocean

"One of the most satisfying and poignant novels readers will come across this year. It is a gripping story, simply told . . . both heart-warming and heart-wrenching. LIGHT OF DAY is, basically, both primer and cautionary tale about our contemporary lives. It is never less than heartbreaking. It is always honest. And it is very often extraordinary."
– Anniston Star
"A heartfelt examination of one man's grief with a dark and intriguing mystery pulsating beneath the surface."
– John Searles, author of Strange but True
"Quietly affecting . . . a debut with enormous depth of characterization and sympathy."
–Kirkus Reviews
"It's the mystery of what happened to Danny that will carry you through this book . . . The ending is a reminder that we are heartbreakingly vulnerable through our children."
– Arizona Republic
"Light of Day is a haunting, beautifully written, and heart-wrenching debut."
– Harlan Coben, author of Just One Look
"Saul's first novel is a powerful look at memory, family, and unexpected tragedy . . . recommended."
– Library Journal
From Reese: "I'm a reader/writer/reviewer, former professor and I just finished reading your Light of Day and find it a poignant, gripping, beautifully written novel. You have portrayed grief with truth and grace and your characters are unforgettable. Your plot moves forward inexorably, the suspense building, never letting up, but turning, twisting—really, really well done. I'm going to recommend it highly to all my reading friends, book discussion groups, etc."
From Doris: "I can't praise you enough for writing this wonderful novel. I think it should be a must read for all parents of children."
From Barbara: "I have always been an avid reader of novels and your novel is—and always will be—at the top of my list of great books. Light of Day was the most powerful, well-written book that I have ever read. I have recommended your book to my friends and relatives. Thank you for writing this masterpiece."
From Annette: "I read until it hurt to keep my eyes open. There wasn't a moment that I could easily put aside your brilliant book and get about my ordinary life. I was just the most compelling read. I felt woven into the story, as if I were a character, silent, watching."
From Jane: "I finished reading your wonderful novel (hard to believe it's your first) and absolutely loved it. I hope you'll be writing another novel soon because I read quite a bit, both fiction and non-fiction, and this is one of the best books I've read this year. The only book remotely similar I read recently was Joan Didion's The Year of Magical Thinking. Someone recommended your book so I took a chance and bought it and am glad I did. Thanks for writing this and providing a great read, one which has haunted me for days."
From Susan: "I recommended your book to two members of my book club and they enjoyed it as much as I did. I am looking forward to your next publication."
From Nancy: "I have never before read anything that so completely captures the essence of grieving. It is an amazing experience to feel as though you are living the character's life. I read a lot and there are only a few stories that have captured me like this. What a gift you have!"
From Carol: "Please know how blessed you are to have the ability to reach a myriad of people's hearts and mind across a printed page…what a Gift! You created people that I cared about."
From Judy: "I just finished your marvelous novel. It affected me so deeply, I had to write and tell you. I couldn't turn the pages fast enough. I've read a lot of novels but the one was the most awesome. Light of Day changed my outlook on life in many ways and there is no other book I have ever read about which I can honestly say that."
From Linda: "I just finished your beautifully written book and was totally captivated by it.
From Susan: "I just finished reading your book. I'm not certain why I bought the book in the first place…I loved the opening chapter. I guess that prompted the purchase. And I am so happy that I did. I loved your book and look forward to reading the next."
From Ethel: "Good evening. I finished your novel and must tell you that I couldn't put it down. I finished the book two days ago and am still thinking about the ending."
From Mary Ann: "I have just finished reading your book which I found to be a wonderful page turner and extremely well-written."
From Lucy: "I just finished reading your book, sitting here with tears streaming down my face. What an amazing story. So many things in this book touched me…I plan on sharing it with as many people as I can. Your name has been added to my favorite authors."
From Kathleen: "Wow! How nice to read a novel to which I can related. Surely this will be a movie. When will your next book be out?"
From Noreen: "I just finished Light of Day and I thought it was amazing. I couldn't put it down. Each character in the book is so fully developed and multi-dimensional, with their own strengths. I work in a small library and would consider it for my book discussion group. It was a beautiful, intelligent book. I have many pages jotted down to re-read simply because they were so beautifully written."
From Ruth: "Haunting, gripping, wonderful; these words do not begin to do your book justice. This was an amazing book. I am a pre-school teacher and reading is like breathing to me. Your phrasing of words is a talent that just cannot be duplicated by anyone."
From Marcia: "My husband and I have both just read your book and we think it's terrific. It was a great read."
From Mary: "Light of Day was a fascinating and memorable reading experience."
From Ellen: I just finished reading your book…I read it in almost one sitting! I read constantly and I'm very particular; if a story isn't compelling, and most of all, if the characters aren't real and dynamic people, I rarely finish the book. I loved your book. It touched me, made me care immensely for your protagonist. Thank you for a fine book.
From Jim: "Thanks for a wonderful experience. It so accurately depicts so much of what is important about relationships—between parents, between friends; between partners. I also found it to be an astute description of the existential dilemmas which all of us must face."
From Christine: "I truly enjoyed your novel. I hope someone is already working on the screenplay adaptation!"
From Eve: "I picked up your book last week and just finished it. Wow—it was incredible. I have a summer reading list 4 pages long but this was the best one so far all summer."
From Margie: "Your sensitivity and description of places, events and emotions is incredible. I became addicted to your style of writing from the first chapter. Your ability to express the emotions and depths of despair were profound. You are a superb writer."
From Laura: "I read your book twice: once for the story but had to go back to absorb and appreciate the imagery and descriptive phrasing that I found so extraordinary. The story shook me to the core.
From Milo: "I read your book over the weekend and was knocked out by it. It reminded me a little of Roth or Bellow—the academic setting, the rich inner life of your protagonist, the tone and the density of the writing are somewhat reminiscent of those two masters.